bio
PETER LITVIN
---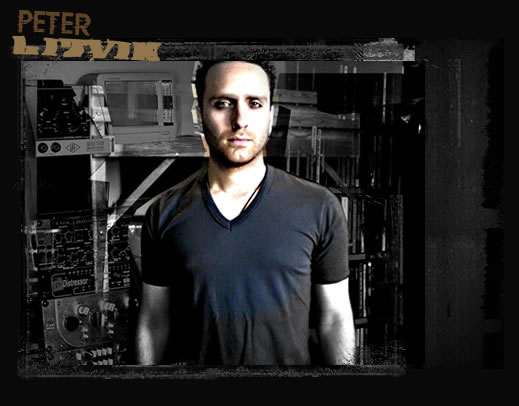 Born and raised in the northern suburbs of Detroit Michigan, Peter Litvin's adolescence came with all the trappings of your typical aspiring musician. High school bands, drug exploration, ventures into new musical territory, a CD collection that grew exponentially, and a series of meager day jobs that financed the whole trip. At twenty-three Peter uprooted from his humble surroundings and left for the Big Apple.
With his extensive experience and passion, matched by a relentless work ethic, Peter built a successful business in the music industry. In little over two years Revolution Studios (operated solely by Peter) became one of the most trafficked boutique recording studios in New York City. Serving an eclectic cliental, Peter records, mixes, engineers, produces and even collaborates on a myriad of productions.
Pete's life away from music is an intersection of fleeting obsessions. In a given year he might become a master chess player, learn twenty-five minutes worth of magic, read thirty books, and even decide to take up Chinese - all with enough time left over to conceive, write and record some kick-ass material. His exponential musical prowess and undying love for his pet lizard Jammy met last year to inspire Peter's latest work, "Love Spectacle". A twelve track, genre bending, tour de force. Peter is calling this this one his "most important works to date".
He has vowed to make "twenty albums before I die". With the bar set very high by previous work (Corpse Smoke, Gypsy Kiss) Pete has a lot to live up to. But if "Love Spectacle" is any indication, Pete can live up to the challenge, and then some. Luckily for us he has already started writing and recording a new album, "School". Bands like Talking Heads and Devo proved that dance music could be artistic, Peter proved that it could also be intelligent. And twenty years later music can still be fun, despite what's on the radio.
Unlike his previous two albums Peter's new album titled "TELEPORTATION" contains no overriding style or theme. Instead, it represents Litvin's past and current musical leanings—which range from thigh-lifting '80s-esque aerobic dance tracks and sensual Turkish zurna-filled beats, to guitar-driven funk rock and new wave electronica. A step forward in Litvin's expanding musical universe, Teleportation is a journey through space and time, conjuring ancient civilizations and modern city centers, Middle Eastern desert landscapes and Eastern European dance halls.Teleportation is more than a welcome addition to the prolific Litvin's catalog—it's an album by an artist at the height of his powers.