bio
PETER LITVIN
---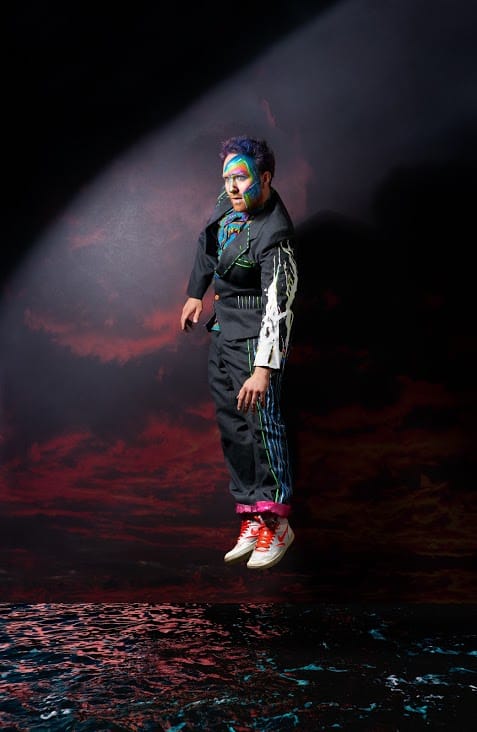 Peter Litvin is a Brooklyn-based multi-instrumentalist, writer, producer, actor, and self- proclaimed "gluten free asshole." Since 1999 he has recorded and released over 20 albums and E.P.s under various aliases, as well as countless music videos and short films. Litvin also co- wrote, produced, scored, and starred in Troma Entertainment's feature length film, b-movie horror-comedy Hectic Knife.
In 2018, Litvin released his newest album, Instruments of Pain, heavily inspired by a breakup with his longterm girlfriend. Litvin describes Instruments of Pain as his "heartbreak album" and cites influences as Beck's Sea Change, Type O Negative's October Rust, and Elbow's Seldom Seen Kid.
That same year he completed work on the screenplay for his next feature film, Dragos. Litvin is now working under the mentorship of highly respected writer/director Trent Haaga (Citizen Toxie: The Toxic Avenger IV) to bring the project to life.
Since 2012 Litvin has produced over 100 songs for various artists. The tracks resulting from these collaborations have amassed more than 350 million hits on YouTube, and include YouTube personality CaptainSparklez's "Dragionhearted" and popular YouTube gamer TryHardNinja's "It's Me," which went on to be the fourteenth most downloaded dance song on iTunes for four weeks straight in 2015.
Prior to Instruments of Pain and Dragos, Litvin recorded what is widely regarded as his best album to date, Dreamland Magic Spells. Singles included "Gunz Up!" and "Zombie Movie," both mixed by well-known author and heavily sought after engineer Eric Sarafin (aka Mixerman). The two tracks collectively resulted in music videos featuring Troma Entertainment founder Lloyd Kaufmann, B.C. Butcher director Kansas Bowling, and Angry Video Game Nerd's James Rolfe.
Litvin studied jazz for two years under the guidance of renowned NYC Jazz artist Ilya Lushtak and also worked with legendary performance artist Matthew Silver. During this time Litvin returned to his hometown in Michigan for a stint at Mike E. Clark's famed Electric Lab Sound Studio, responsible for a number of Insane Clown Posse and Kid Rock albums.
A few years after his initial move from Michigan to New York in 2008, Litvin and longtime collaborator Greg DeLiso joined forces with Mark Breese to produce a music video for Tommy Wiseau's The Room. As a result, Litvin met actor Greg Sestero, who went on to appear in Litvin's music video "The Room Rap" by The Brooklyn Doctors. Sestero claimed that Wiseau had Litvin's Gypsy Kiss album in his car stereo for a year straight. Litvin also had a bizarre meeting with Wiseau, which is detailed in Ryan Finnigan's book The Room: A Definitive Guide.
Before New York, Litvin attended college in Michigan where his studies focused heavily on music theory and ear training. He graduated with a bachelor's degree in management and associate degree in art. Years of schooling caused him to develop a great disdain for the educational system. "I regret ever going to school, voluntarily or otherwise," Litvin says. "I hate education, and I'm deeply pissed that I ever wasted my time in school. I've known what I wanted to do since about age 12."
Litvin's time in Michigan included the 2003 creation of Corpse Smoke, a musical project that shocked the masses and became in high demand at indie record stores across the country. Through 2006, Corpse Smoke successfully released an E.P., two full length albums, and a double disc album. It also put Litvin in touch with Giuseppe Andrews (actor, Independence Day, Cabin Fever), a big fan of Corpse Smoke's music.
Over the years Litvin has worked with veteran producer, engineer, and songwriter Bob Ebeling (Phish, Eminem, Rufus Wainwright) as well as notable Detroit artists Kent Koller, Emily Rose, and Insane Clown Posse. Ebeling became a close friend and highly influential mentor to Litvin.
Litvin was born in Michigan on April 20, 1985. Son to a Jewish salesman and a Christian homemaker, young Litvin embraced a love for nature he now finds difficult to enjoy due to the mundane responsibilities and consuming creative endeavors of adulthood.
When he wasn't building forts in the woods or riding his bike through the suburbs of Detroit, Litvin was engrossed in video games, movies, and listening to music obsessively. He started playing guitar at age 10 and recording music at age 12.
It was during this formative year in his childhood that Litvin was significantly influenced by legendary Detroit producer Chuck Miller, who worked at Guitar Center at the time. Miller convinced 12-year old Litvin not to buy a 4-track recorder but instead to delve into the world of digital audio. To this day Litvin is still grateful.
In addition to continued work on Dragos and the release of Instruments of Pain, Litvin does commercial sound for MTV, VH1, LOGO, Apple, Lexus, and more. Recently he was hired to mix singer-songwriter James Arthur's MTV VMA performance of the breakout single "Say You Won't Let Go." Litvin also continues to record, produce, and mix music in his home studio for multiple artists.
Litvin currently resides in Bushwick, Brooklyn along with his five cats. In spite of being raised a born again Christian and taking part in a Fourth Way group for five years, Litvin claims to hate religion and refers to himself as "some variation of atheist". His favorite bands include Type O Negative, Elbow, Simple Minds, Janes Addiction, Beck, Porno For Pyros, Stone Temple Pilots, Billy Joel, Pulp, Jarvis Cocker, The Smiths, Blur, Soundgarden, Led Zeppelin, Simian Mobile Disco, and LCD Soundsystem.
Instruments of Pain is the 8th full length studio album that Litvin has released under his actual name and the 16th formal release including works with other bands, projects under different monikers, and soundtracks. The new album and more from Litvin's catalog can be found on iTunes, Spotify, Rhapsody, Apple Music, and over 50 additional digital music platforms.