Album Review
DREAMLAND MAGIC SPELLS
---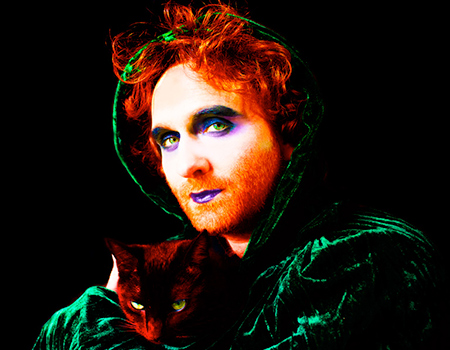 Dreamland Magic Spells is the fifth full-length solo album from multi-instrumentalist and prolific music producer Peter Litvin. It is also the Detroit-bred and Brooklyn-based artist's most compelling, cohesive, and powerful record to date.

Litvin wrote, recorded, and mixed Dreamland over a three-month period, using the studio as a writing tool as opposed to the demos and 4-track recorders he used on previous records. Since his last full-length solo release in 2012 (School), Litvin has spent much of his time studying jazz (he was also starring in, scoring, and producing the highly acclaimed independent film Hectic Knife). And while you won't hear much, if any, of Litvin's jazz interests on Dreamland, the musician's immersion into the genre's improvisational nature certainly informed his record's quick and cohesive creation.
The interests and influences you will hear on Dreamland range from '80s synth pop and electronica to '90s grunge rock and hip-hop. Litvin builds on themes he's written about previously, writing here with more confidence and complexity about teenage angst, drug use, suburbia, leaving home, and making friends with your demons and dark side.
On "Zombie Movie," Dreamland's first single, Litvin invokes MGMT and Passion Pit as well as Yazoo and other 80s synth bands to create an intoxicating and euphoria-inducing pop anthem with themes of escape and rebirth. "Be the hero in a zombie movie" Litvin sings as the song builds like a beat-up convertible gaining speed through a forest road, leaving behind a trail of broken hearts and dead-end "sensible" decisions on the way to something that smells like freedom.
A strong sense of forward movement and rebirth also exist on Dreamland's sole guitar-driven track. On "Perfume Pretty" (a song that wouldn't feel out of place on one of Beck's best records), Litvin sings, "I like to ride my bike/I love to steal." Which is an ingenious non sequitur amid a beautiful chorus, bringing to mind teenagers and their bicycles crossing double-yellow lines on dead-leave-lined streets underneath a setting, autumn sun. Here, Litvin again sings of transformation ("I'm old enough because I've been born twice"), and despite the sensually pleasing title and cacophony of strings that ends "Perfume Pretty," there's a sense of danger and darkness lurking, with a "suburban genie" serving as the means by which the thieving, biking youth will make their wishes to exit their suburban prison.