Album Review
INSTRUMENTS OF PAIN
---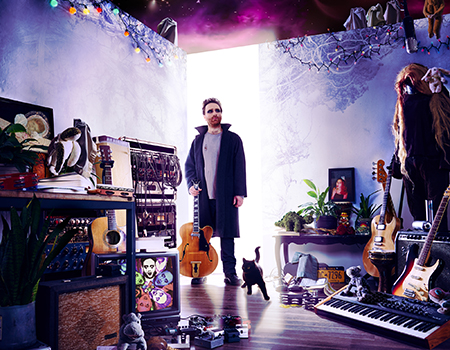 Instruments of Pain
Destruction breeds creation.
It's a cliché often applied to creative endeavors. There have been art exhibits inspired by wildfires, interpretive dancing moved by the mushroom clouds of nuclear weapons, and time and time again, musical albums birthed from the death of relationships.
A perfect example of this concept can be found on Brooklyn-based multi-instrumentalist Peter Litvin's most recent effort, Instruments of Pain. Litvin has described Instruments of Pain as his "heartbreak album," heavily inspired by a breakup with his longterm girlfriend.
What makes Instruments of Pain stand out from heartbreak albums under the same genre? Influences such as Beck's Sea Change, Type O Negative's October Rust, and Elbow's Seldom Seen Kid are present throughout, but Litvin is an undeniably impressive one stop shop. He is the sole writer, musician, producer, engineer, and vocalist (with the exception of backup female vocals on three tracks).
As the title track begins, listeners may not realize that they are about to embark on a journey of despair, dominated by musical genius and littered with self-hatred and mentions of beloved pet cats. On the surface, this first song would pair greatly with a sunny day's walk down the street, head bobbing while stepping to the beat. A closer listen and eyebrows raise when contemplating these "instruments of pain," at the same time wondering whose license plate number Litvin may have been referring to in the chorus.
Litvin doesn't leave listeners much time to ponder the stalker-esque themes of the opening track as the album moves on to "Let You Go." Musically meditative and lyrically self- explanatory, "Let You Go" is the track that confirms what the listener may have suspected up to this point - Litvin's heart has been broken, and he's ready to tell you all about it.
Before delving back into the darkness, Litvin allows listeners one more gleam of synth-pop dance-party sunny-day beats with "Leave It Alone." The song is a callback to his previous and arguably most compelling album to date, Dreamland Magic Spells, and is followed by "Nightmare." The driving force of "Nightmare" confronts the relationship head on and seems to beg the question: if heartbreak won't ever leave, is the broken man better off dead?
As the prior track spoke to the nightmare of ending a relationship, "There Were Days" gives a glimpse into the love and longing at the end of one. The pining in Litvin's vocals are clear as he sings "Good god, I love this girl, I want my world back / Enchanted precious pearl, our love remains a fact." The outro perfectly encapsulates the theme of the album as Litvin hypnotically repeats three small words with one towering meaning: "it was ours."
"The Road" begins and snaps listeners out of this trance. The clouds part ways as Litvin's energy pours out in an upbeat tempo that has everyone strapping on their dance shoes yet again. The first half of the albums ends where it began - providing listeners with the sounds needed to move their feet, and thrilled that Litvin is using this heartbreak in a way only possible but true artistic masters.
Although "The Road" began with a bang, the next track begins with a whisper. The gentle melodies of "Time Machine" may seem soporific, but listeners must remain attentive in order to absorb the beauty of a song that every heartsick soul can relate to: "the oldest tale in history / all I want is a time machine."